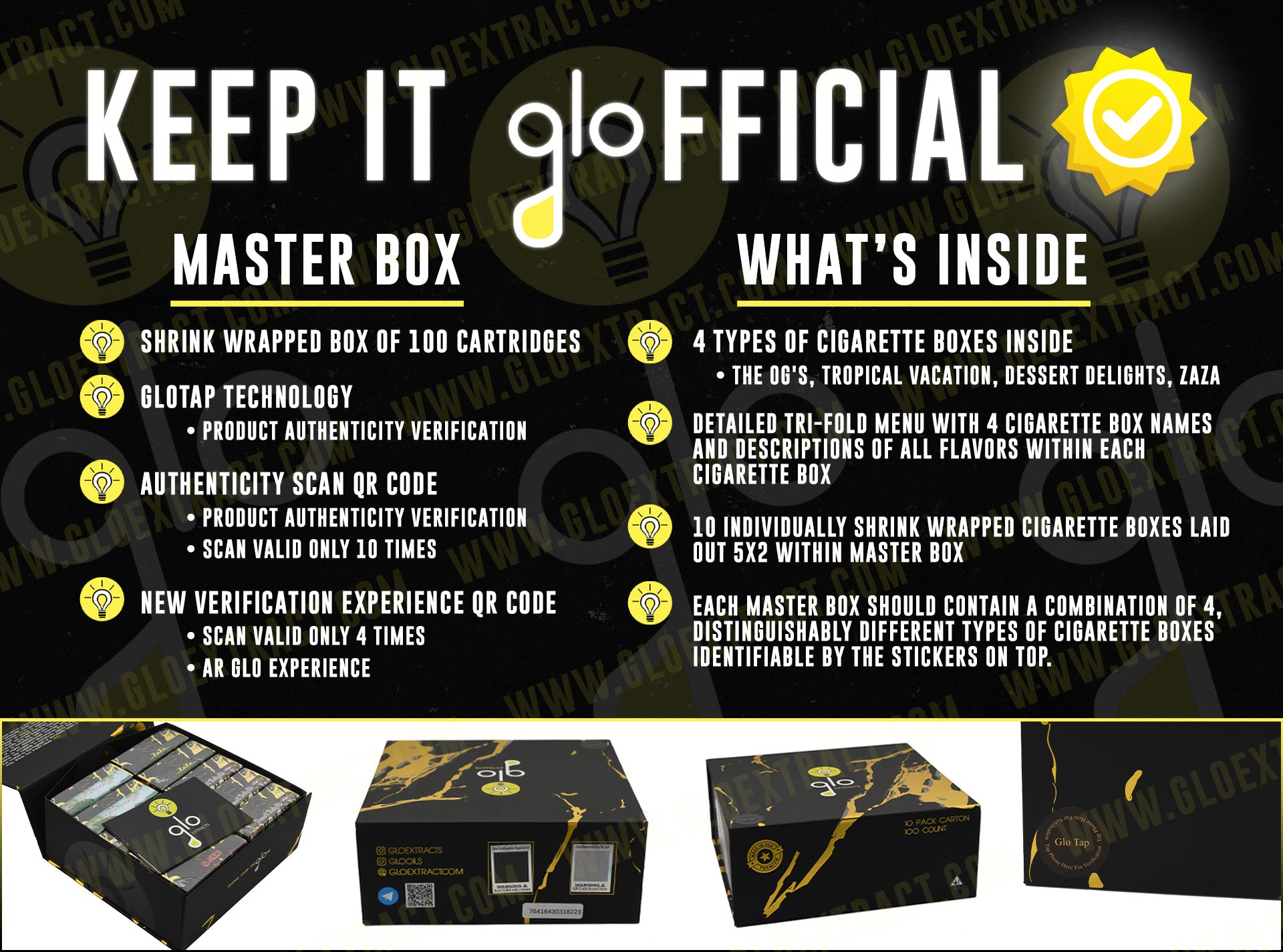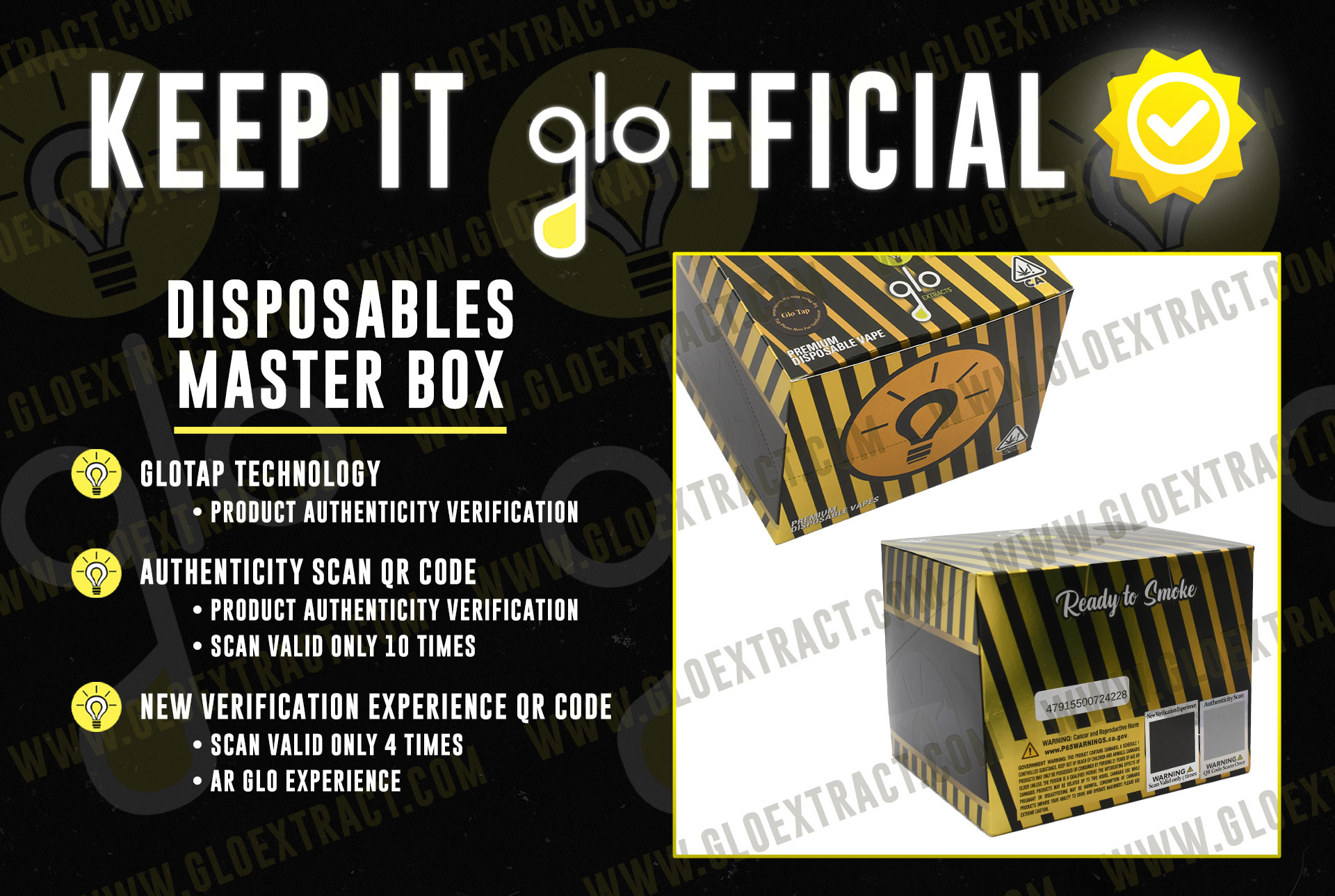 Glo Extracts takes every precaution when it comes to our products and your safety. We go so far as to monitor every point in the development of our product, from creating, packaging, to distribution. We do our best to ensure the quality of our product is absolutely premium. Each stage in development is carefully controlled and if for any reason our products don't meet our high standards, they don't make it off the processing floor. Safety is our ultimate concern which is why we have gone above and beyond when it comes to security in order to make sure you know when you have a genuine Glo Extracts product in-hand. 
Glo Extracts: Verification
Glo Extracts has an extensive verification process which allows you to set your mind at ease knowing you truly have one of our products. The verification process has become a necessary part of our manufacturing schedule to ensure the safety and well being of anyone who buys and uses our products. Everything from the design of the packaging to its contents has been closely inspected and approved by one of our team members in an effort to make you, the buyer, feel more secure and comfortable with us and our merchandise. 
Glo Extracts: Package 
Our Glo Extracts packaging is the very top of the line in both design and technology. We offer what no other company does in regard to the security and the safety of our customers. The box itself has a unique recognizable design covered in gold foil. On which there are multiple verification steps that you can utilize to help you be able to discern a real Glo Extracts product from a fake one. These verification markers also change on a regular basis enabling our security to evolve as needed in order to maintain a higher level of impenetrability. These markers as of now involve a scratch off square that reveals a QR code authenticator that can be scanned. This will take you to our secure website and allows you to rest assured that you have purchased the genuine article. This QR code can also only be scanned 10 times before it is no longer usable to help discourage any repeated uses of the box itself in the future. In conjunction with the QR code, the box also has an additional square that can be scanned for further authentication. This will securely bring up an augmented reality experience on your phone that is fun while reassuring you of the validity of your purchase. Another security feature is the Glo tap sticker on the main box as well as each individual box therein. This verification step can be taken simply by tapping your smart phone once against the sticker. Doing so will take you to the Glo Extracts official verification page, thus reinforcing the fact that you just bought the real deal. Those precautions are just a few among others that we at Glo Extracts have been working on behind the scenes to make sure we are doing absolutely everything we can to ensure your safety. We strive to go above and beyond because you and your business matter to us and we would never give you anything less than our absolute best. If you feel you just purchased one of our products and feel like it came up short in any way, please discard it and visit www.gloextract.com.
Glo Extracts: Disposable
At Glo Extracts we offer a number of products including disposable vapes which allow you to be able to discard your vape when it is depleted. These vapes come in boxes each containing five of your chosen flavor. Each box has an authentication Glo Tap sticker to which you can touch your phone to and be taken to our secure authentication page. Each flavor and type of our product has been extensively tested for quality and safety to make sure that what you get is our pristine product. 
Glo Extracts: Tropical Vacation
We at Glo Extracts make an effort to develop new and delicious flavors that are safe and reliable on a regular basis. We will never sell or offer a product that we didn't extensively test, or that has failed any test. Our collection Tropical Vacation is a package of vapes that includes three flavors. Cactus Cooler, Blood Orange, and Mother of Berry. This collection of flavors is guaranteed to make you feel like you're on the tropical vacation you deserve, all from the comfort of your own home. These vapes come in our verification packaging so that when you open the box, you know you have the real Mccoy. If for any reason you feel as though you may have a counterfeit, we urge you to discard it and visit www.gloextract.com