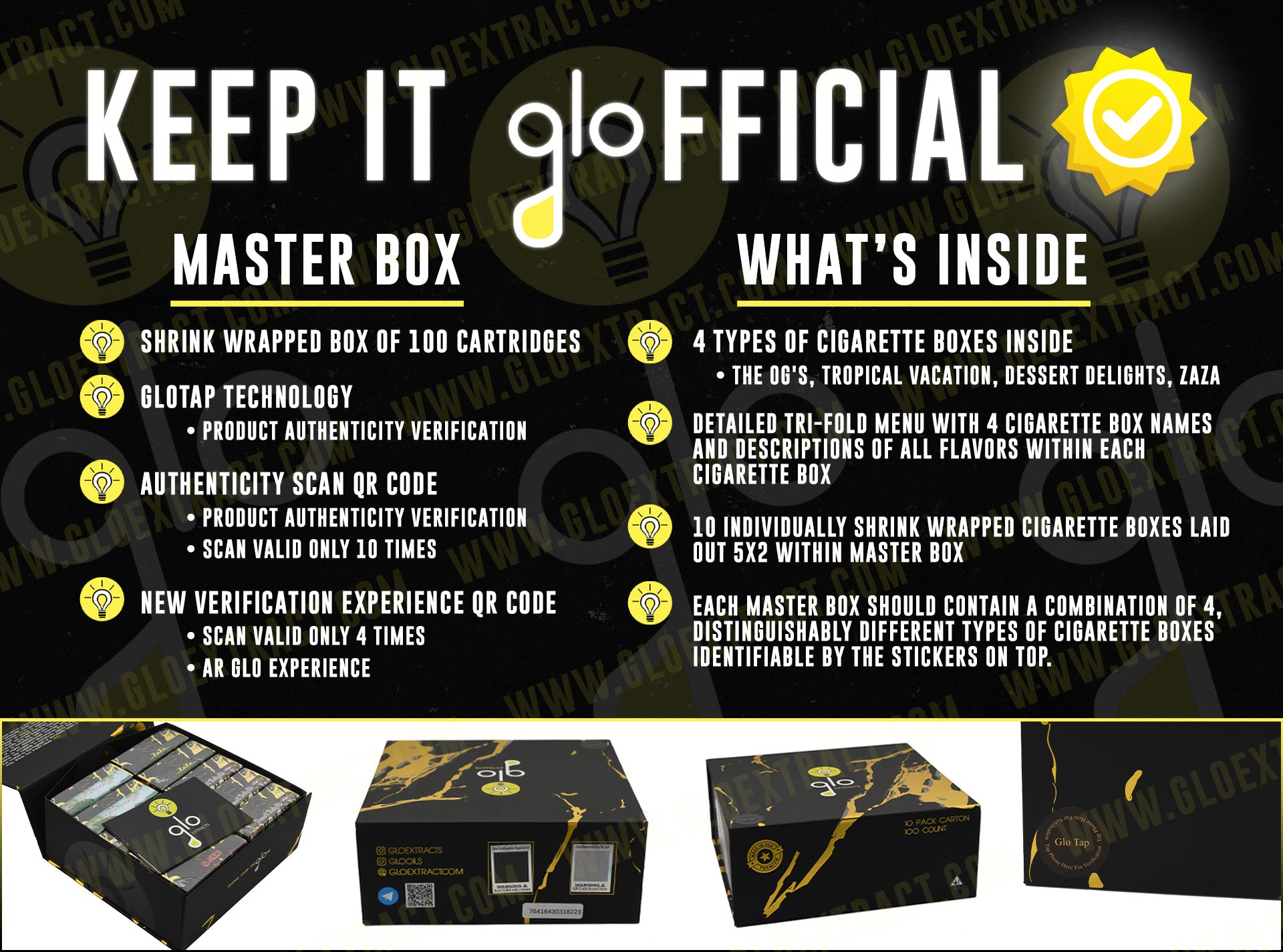 Leading the Industry in Security
At Glo Extracts we strive to ensure safety and quality at every stage from development to your door. Our authenticity has become a priority because it greatly helps to ensure the safety of our consumers and helps you to recognize that what you're buying is indeed our premium brand. To achieve that we have realized it is necessary to utilize the best security in the industry so that you know for a fact that you bought an authentic Glo Extracts product.
Are Glo Carts Real?
Glo Extracts is the real deal. When purchasing any Glo products anywhere, please take extra care to ensure they are from gloextract.com or an approved Glo Extracts source. At Glo Extracts our main priority is for your safety and well being so we do everything within our power to ensure that our products are not only the best, but we have taken it upon ourselves to go the extra mile in product packaging and distribution to ensure you know that you are holding a Glo verified authentic product in-hand.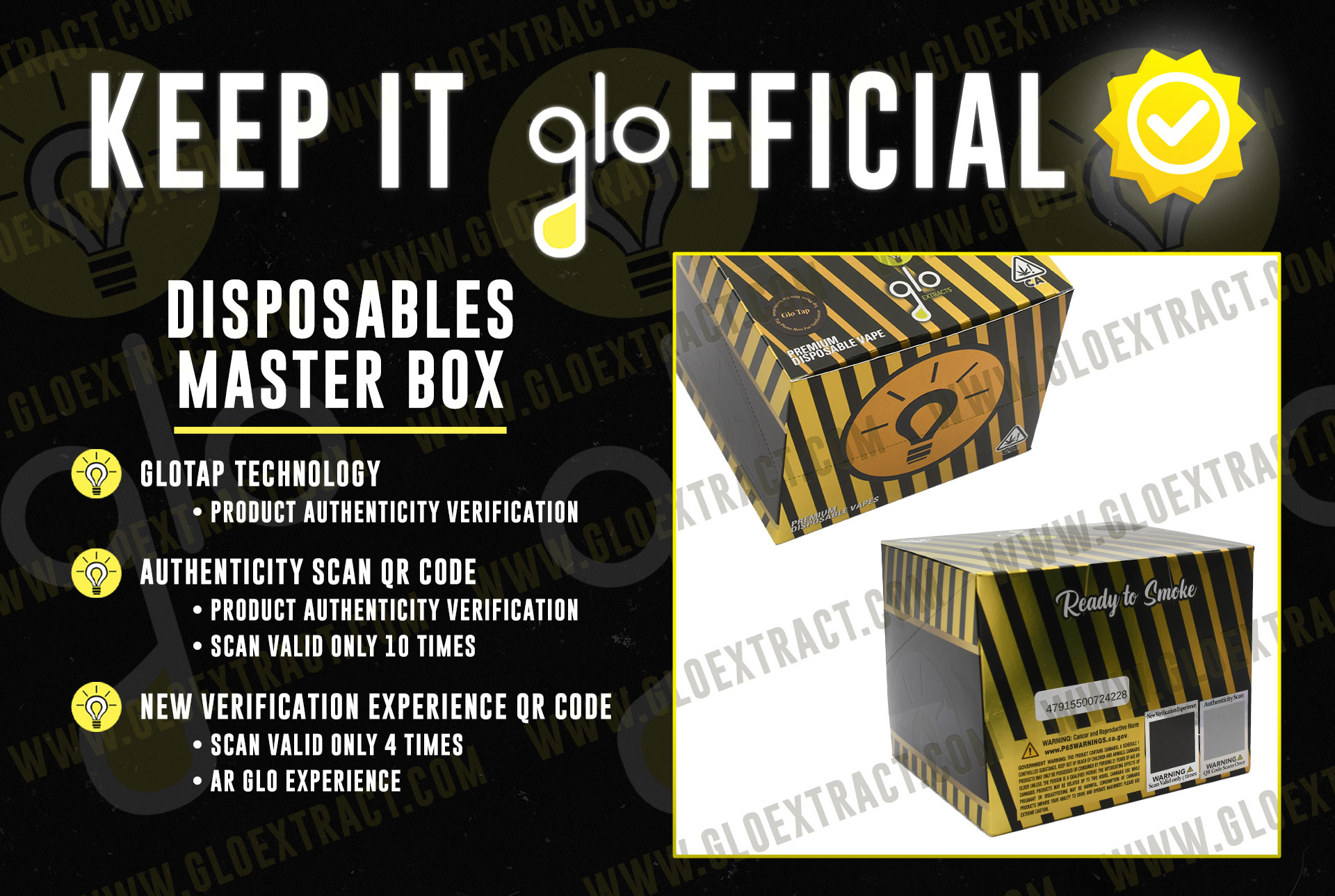 Glo Extracts Package
Glo Extracts has developed a unique package design that is nothing less than a work of art. It contains multiple top of the line authenticity markers that you can inspect upon your purchase to ensure that what you're getting is the real Mccoy. These authenticity steps change regularly to maintain our high level of security for your product. As of now it has a QR authenticator that must be scratched off in order to scan, and can only be scanned up to 10 times before it expires. It also contains an augmented reality (AR) experience which you can enjoy while also verifying that your package is actually from Glo Extracts. Another verification outlet the box features is a Glo tap sticker which allows you to tap your phone to it and it will take you to an official Glo verification channel, adding another layer of authenticity. Each box features 100 cartridges in 10 boxes. Each box has its own telegram channel QR code along with the same scratch and scan QR codes that were available on our master box. For added security and authenticity each box also contains their own Glo tap sticker. To use this, you simply tap your smartphone to the sticker and it will whisk you away to the official Glo verification page so there is no doubt that what you have purchased is from Glo Extracts. This sticker in conjunction with our previously mentioned security measures, including some that are top secret and not stated here, helps to ensure that any Glo item you purchase can be verified as a legitimate Glo product.
Glo Extracts

Disposables
Glo Extracts offers disposable vapes that come in our premium packaging which contains a 5 count of the flavor of your choice. Once the vape runs out of extract it can then be disposed of. Everything we offer has gone through extensive testing and has been refined to perfection in order to ensure your safety and enjoyment. From the roots to you we ensure quality and safety at every. Single. Stage. If a Glo branded product hasn't met our high standards, you may have a counterfeit product that should be disposed of for your safety.
Glo Extracts Tropical Vacation
Need a tropical getaway but have to go to work? With our tropical vacation collection the vacation comes to you! The collection includes strains like Mother of Berry, Cactus Cooler, and Blood Orange in this dynamic trio. As always it comes in our state of the art packaging that is exclusive to Glo Extracts and changes frequently to ensure you know that what you're getting is the real deal and not a fake. If you think what you may have purchased is a counterfeit, please don't use it, and visit
www.gloextract.com
.